Description :
Our Feather Flags is one kind of Beach Flags .Its shape like Knife or Feather ,or Aero ,Blade ,Mistral or Sirocco .
Our common material for feather flags is 100% 110 g or 135 g knitted fabric with digital printing or dye sublimation printing . Single side printing or double sides printing .
Our feather flags are supplied with a choice of bases, making them extremely versatile and easy to install ,in any position. Base choices include: water holding base ( for indoor or outdoor use ), ground stake ( for outdoor soft ground use) or a drive - on car foot ( for outdoor use on hard ground ).
Size list of our feather flags :
Glass Fibre Poles + Aluminum Poles

Rod total height

2.8 meter (9.2feet )

3.4meter (11.1feet )

4.5meter(14.77feet )

5.5meter (18.0feet )

Flag size

50*200cm

60*240cm

70*340cm

80*410cm

Vertical Height

260cm

300cm

400cm

500cm

Glass Fibre Rods

Rod total height

300CM (9.84 feet)

400CM (13.13ft)

500cm (16.4 feet)

Flag size

65*210cm

75*320cm

80*420 cm

Vertical Height from floor

280cm

360cm

450cm

















Our Feather Flag Shape :
1. Feather Flag Convex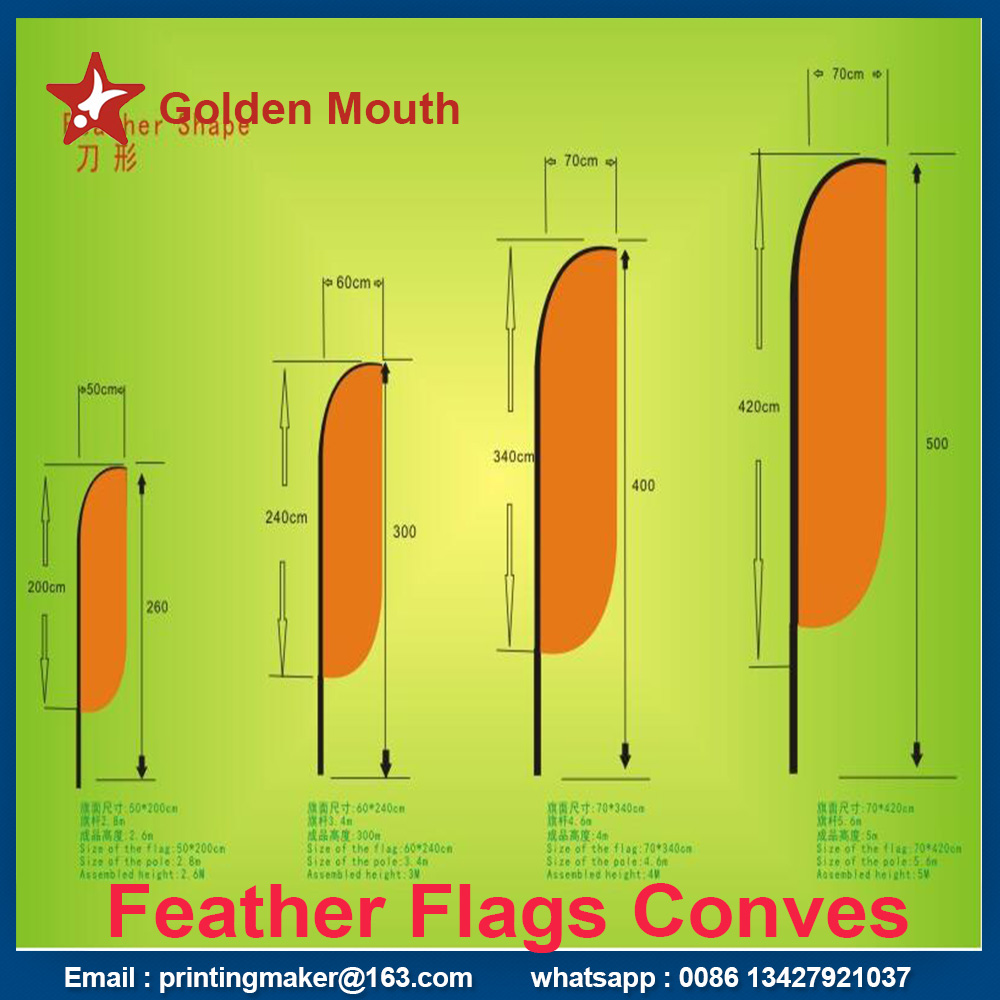 2. Feather Flag Straight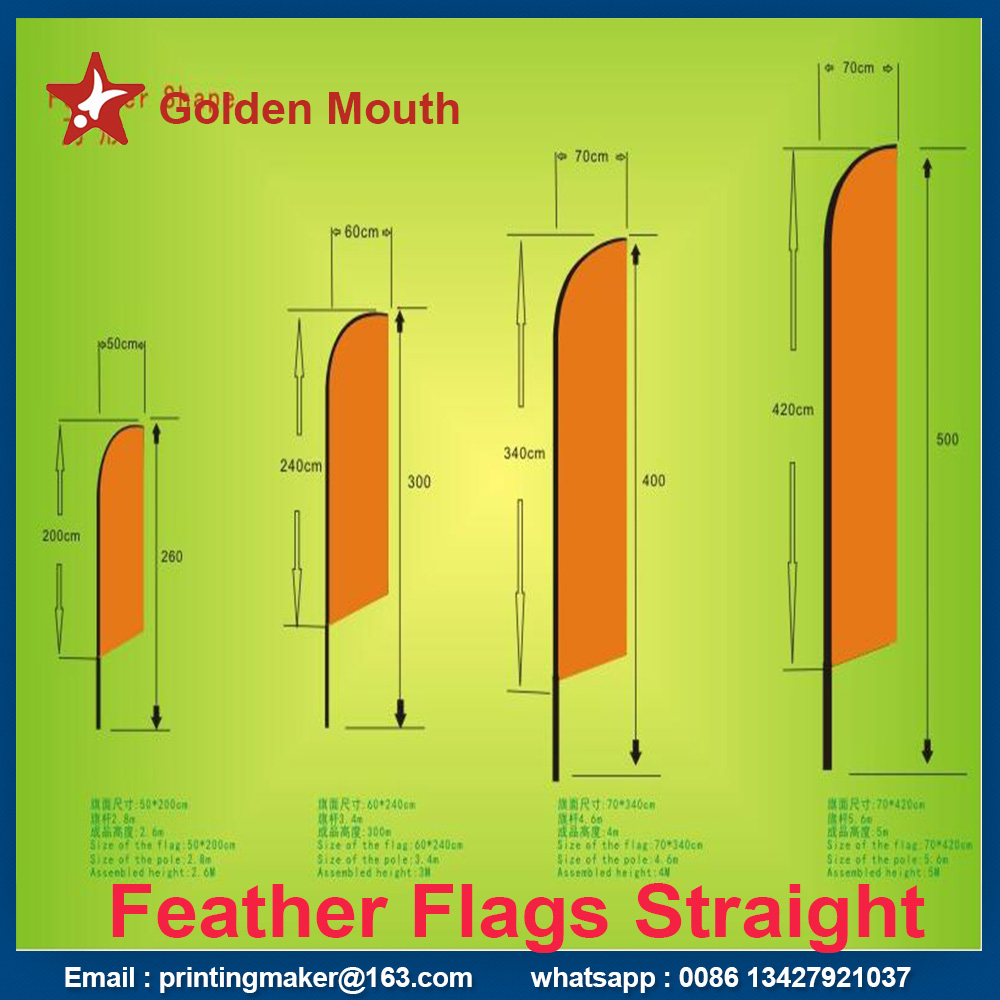 3. Feather Flags Concave :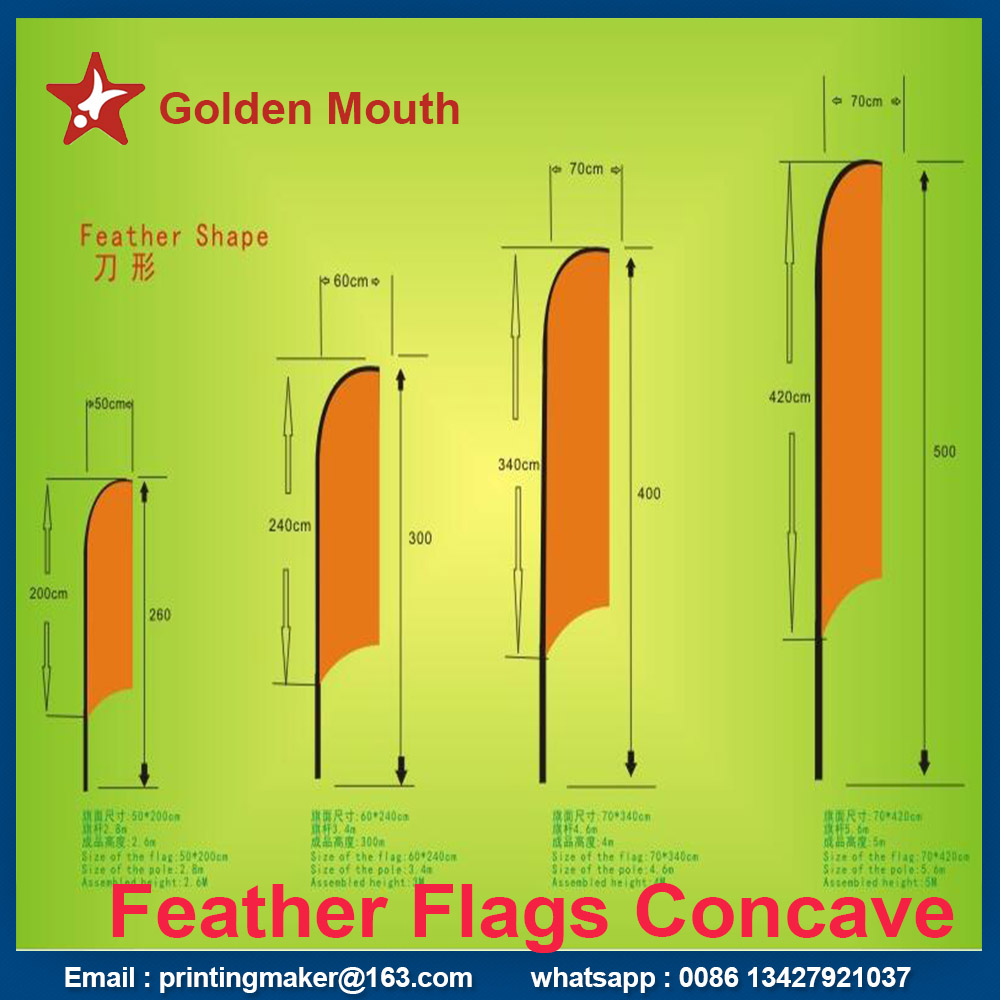 The difference between glass fibre poles + aluminum poles and full glass fibre rods :
The first one ,just the top part pole is gass fibre ,so it can be bent
The second one is full glass fibre rods from bottom to top .This quality is much better ,because this material is soft and can be bent
The printing tech for our feather flags :
1) Digital printing
2) Dye sublimation printing ( hot transfer printing ) --- this quality is much better than digital printing
The base for our feather flags to choose :

For final price with complete accessories ,please contact with Angelina (whatsapp : 0086 13427921037 )